Product Description
iStick TC40W with Nautilus X
Product Introduction:
iStick TC40W, an innovation of iStick series battery, adopts newly introduced technical element of temperature control. It will bring out a unique vaping experience without any dry hit by adjusting temperature setting. Despite the small size, it can reach 40W with large 2600mAh power capacity. Moreover, all stainless steel threads and elastic spring connector endow it with strong wear resistance. With temperature control function, less power and e-liquid consumption will also be a plus.
Standard configuration
| | | |
| --- | --- | --- |
| 1 x iStick TC40W | 1 x eGo Threading Connector |  1 x Nautilus X |
| 2 x Nautilus X Coils | 1 x Replacement Glass | 1 x USB Cable |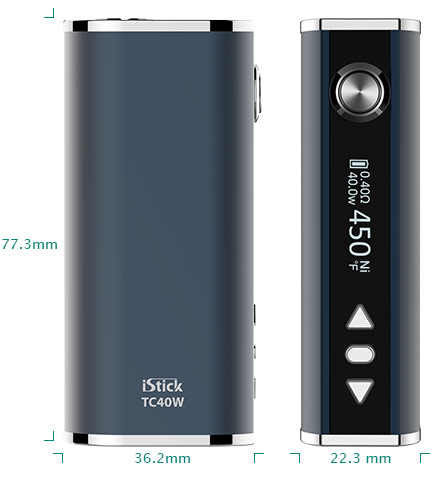 Parameter:
Size: 36.2mm*22.3mm*77.3mm
Color: Black, blue, silver, grey,full black, brushed silver
Capacity: 2600mAh
Thread type: 510 thread
Rated output wattage: 1-40WRated resistance range:
0.05-1ohm (TC mode)
0.15-3.5ohm (VW mode)
Temperature range:
100-315℃/200-600℉
(TC mode)
Features:
1.Clear OLED display: In typical VW mode, the OLED screen displays battery power, resistance, voltage and wattage clearly. You can see clearly battery power, resistance, wattage and temperature in innovative TC mode(Nickel 200).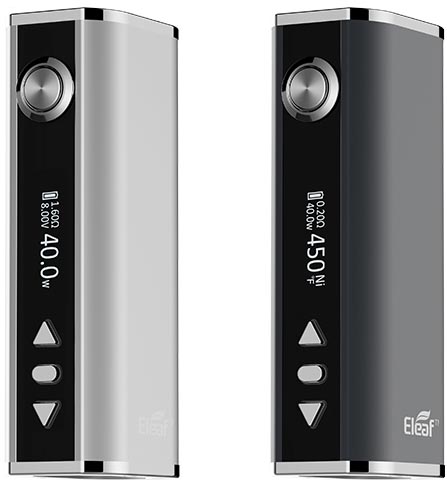 2.Accurate reading of resistance: The reading of resistance becomes more accurate with the number down to the second decimal point.

3.Large output and power capacity: Despite the small size, it can reach 40W output with 2600mAh power capacity.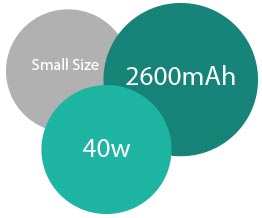 4.Stainless steel threads and spring connector:
It retains stainless steel threads for strong wear resistance and elastic spring connector for high adaptability.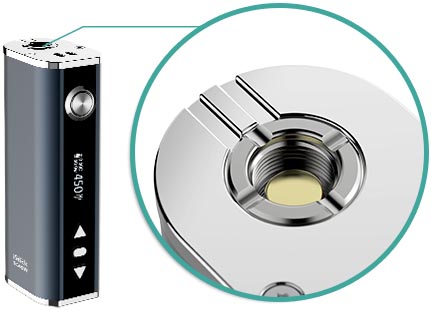 5.Attached necklace hole:
The specially attached necklace hole on the top cover makes it more portable and user-friendly.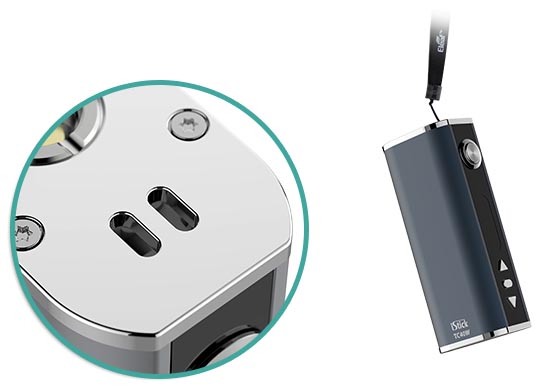 How to charge?
The battery power indicator on the screen will keep flashing when the remaining power is less than 10%. It can be charged with the USB cable through the USB port at the bottom.

It will take about 3.5 hours to get a full charge via 1A wall adapter.The battery indicator will keep flashing during charging and the screen will go out when fully charged.
Aspire Nautilus X

The Nautilus X represents the peak of the Aspire atomizer development curve. Specially designed to provide a premium vaping experience with increased flavor, and unique U-Tech coil technology for all-new airflow performance, this is the future of micro tanks.

Poised to transform how vapers experience flavor and hassle-free day-to-day usability. The Nautilus X is the future. Born from the creative minds of the original global vaping pioneers, Aspire.
Nautilus X Dimensions
Nautilus X U-Tech Coils

Nautilus X coils are 1.5Ω and are rated for use at 14-20 watts. The Nautilus X coils incorporate U-Tech, the latest coil technology. Vape flows through the U-shaped chamber and passes the Kanthal coils twice before being inhaled. This all-new airflow performance allows for unrivaled vape flavor and e-juice taste.

Aspire U-Tech Airflow Diagram
Top Filling

The Nautilus X has a quick & clean top-fill tank.Refill your 2ML tank in literally only seconds. You can drip, drop or pour your E-liquid into the Nautilus X tank and be back vaping in no time.
Nautilus X Exploded View
Nautilus X Adjustable Top-Airflow

The Nautilus X features adjustable Top-Airflow. Not only does the Airflow Control (AFC) help you to change the airflow in the Nautilus X, Adding Top-Airflow ensures your tank will not leak from the bottom over time.